Serene SkinLab PAMPER & SHIELD Bundle
Sale price
$73.00
Regular price
Tax included.
Apply a medium to thick layer of mask evenly across clean face, avoiding the eye area. 
a) Leave on for 15 mins for a quick recharge before washing off
OR
b) Leave overnight as a sleeping mask, rinse off with warm water in the morning. 
OR
c) Apply a thin layer for use as a daily moisturizing cream
Renew Mask can be used daily.
Suitable for all skin types including sensitive skin.
- Particularly Dull, Lifeless, Dehydrated skin, Pigmented skin
- Skin that starts to show premature aging.
Volume: 50ml
Does not contain: Scents, Parabens, Sulfates, Phthalates
Purified water, Coconut oil, Panax Ginseng root extract, Niacinamide, Jojoba seed oil, Hyaluronic acid, Shea butter, Beeswax, Grapeseed oil, Chamomile extract, Fu Ling extract, Dong Quai extract, Bai Ji extract, Bai Shao extract, Carbomer, Ceramide, Allantoin.
Serene SkinLab PAMPER & SHIELD Bundle
Sale price
$73.00
Regular price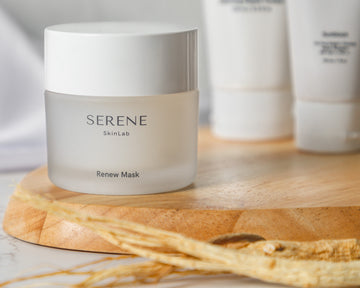 The Award Winning Mask
Renew mask is formulated with carefully selected Traditional Chinese Medicine (TCM) herbs, natural plant extracts & powerful anti-oxidants, this nutritious yet gentle mask repairs damages caused by free radicals and harmful sun exposure. Easily absorbed by the skin, it boosts collagen production so fine lines and wrinkles are diminished over time. It replenishes lost moisture and lightens dark spots to give a radiant glow over time and brings out your natural beauty.
This Renew mask recharges & renews your skin while you sleep. Balancing the yin yang of skin, it nourishes, renews & restores skin to its healthy & radiant state with Ginseng, Angelica, Jojoba, Hyaluronic acid and Niacinamide. Wake up to radiant skin that is hydrated, plumped up and glowing in the morning.
Now in a bigger 50ml size for your convenience that is also more sustainable for our environment.
Shop the Collection