Jade Gua Sha Massage Tool
Sale price
$25.00 SGD
Regular price
Tax included.
1) Before the massage, ensure face is clean.
2) Massage oil, cream or serum can be used as the base.
3) Always massage from the bottom-up and outwards.
4) Massage can be done 2-3 times a week or even daily.
5) Gently run the flat surface of the gua sha board over the skin, with medium to heavy pressure. For face- pressure used should be light to medium. Each area can be stroked 5 times.
6) Cleaning the jade board with cold water & a soft sponge, then wipe with a cloth and placed on a flat table to dry naturally. Do not use hot water.
Material: Jade
Stone Size (approx) : 9.5 * 5.5 cm
Weight: 60-80g
Due to natural variations in stone, every gua sha tool is unique in pattern and color. 
Gua Sha has been practiced for thousands of years since the Tang Dynasty. Jade is known as the stone of youth and is associated with good fortune and wealth. It is soothing and nurturing, balancing and has naturally cooling properties.
Gua Sha massage using the Jade Gua Sha tool not only tones & gives a lifting effect, it gives you a natural radiant & healthy glow. 
Gua Sha improves blood circulation and lymphatic drainage at the surface of the skin which aids in removal of toxins and waste products. This is crucial in helping our skin for metabolism, cell renewal and also helps in hydration. This will in turn reduce toxin build up that causes brown pigmentation spots or yellow sallow skin complexion, giving us a healthy radiant glow. 
Another benefit of Gua Sha massage is that it helps us to relieve muscle tension and relaxes our facial muscles. We may frown or clench our jaws unknowingly due to habits or stress. Over the long term muscle tension or tightness in the brows will lead to tension headaches, deep frown lines.  Clenching our jaws may lead to jaw pain or enlargement of our jaw muscles which results in a square-looking jaw which is not so desirable for the female face shape.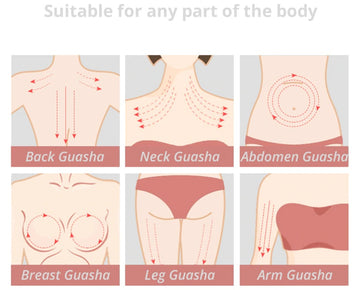 Benefits of Guasha
1. Improves blood circulation & lymphatic drainage
2. Speed up metabolism & cell renewal, and stimulates collagen production resulting in an anti-aging effect
3. Improves yellow, sallow & dull skin giving a radiant glow
4. Lighten pigment and spots, whitening effects
5. Relieves muscle tension resulting in fewer wrinkles
6. Improves skin immunity with less toxin and waste buildup
7. Improves absorption of skin care products 
Shop Anti-aging Collection