Sale price
$45.00 SGD
Regular price
Tax included.
Apply to the affected area as often as required to hydrate, calm, and repair skin. Apply a minimum of 3-4 times daily, particularly after showering, bathing, shaving, and exposure to harsh climate conditions and at night before bedtime.
Suitable for daily use.
When not to use: Do not use if you are allergic to any of the ingredients. Do not use it on broken skin, or wet skin.
This cream is suitable for infants, children, and adults of all ages and varying skin types. This product is especially effective when applied right after a shower or bath. It can be used in conjunction with other treatment creams or emollient creams as needed.
Suitable for : All skin types including sensitive, eczema-prone skin.
- suitable for all ages including children from 2 years old.
- Particularly dehydrated, itchy skin
- Skin that starts to show premature aging and lack of collagen.
Volume: 100ml / 3.3fl/ oz
Ingredients: Water, Grapeseed Oil, Cocos Nucifera (Coconut) Oil, Lonicera Japonica (Jin Yin Hua), Angelica Dahurica (Bai Zhi), Ginseng (Ren Shen), Cortex Dictamni (Bai Xian Pi), Simmondsia Chinensis (Jojoba) Seed Oil, Stearic acid, Squalene, Ceramides, Carbomer, Hyaluronic acid, Angelica Sinensis (Dang Gui), Paraffin wax
Calming Repair Cream
Sale price
$45.00 SGD
Regular price
Great Moisturiser for Face and Body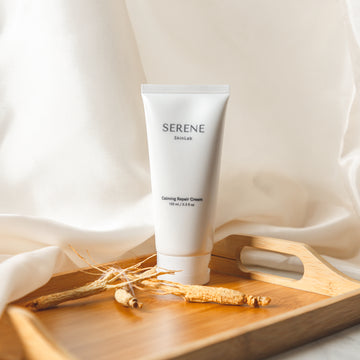 Now in a New Handy 100ml Size!

Achieve healthy, balanced and moisturized skin naturally. This deeply moisturizing cream not only helps to relieve chronic dry skin conditions, atopic dermatitis or eczema-prone skin but also repairs and strengthens the skin's natural barrier for long lasting protection. This calming reparative cream is hydrating, nourishing yet non-greasy. Skin feels soft, smooth, moisturized and is restored to its healthy state, stronger and less sensitive over time.
Natural and unique formula designed to provide rapid and long-lasting hydration and calming relief for dry, itch, redness, and irritation associated with dry, sensitive, and eczema-prone skin. Hydrates nourish and repair skin back to its normal, healthy, and strong state over time. 
Formulated with natural components found in the skin such as Hyaluronic acid, Squalene, Ceramides, and Lipids to repair the skin. The unique formula and high lipid content provide deep hydration of the skin layers and repair the skin's moisture barrier. Skin becomes soft, smooth, healthy and strong and less sensitive to external irritants over time.
Specially formulated with carefully selected TCM herbs such as Ginseng (Ren Shen) & Honeysuckle flower (Jin Yin Hua) that target the root of the problem and nourish and help skin to recover over the long term by removing excess heat, dampness and wind and restore the skin's Yin Yang balance.
These herbs work in harmony to strengthen Qi and nourish our blood restoring strong, healthy skin over the long term.
Shop the Collection
Yet non-oily, non-sticky feel
Which are the root cause of itch and flare-ups
Improves blood circulation to skin and nourishes the skin and blood
No steriods, no harmful chemicals, no preservatives, no fragrances added